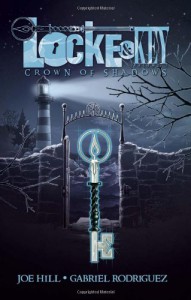 I have been waiting over a year to get back into the Locke & Key series. I was wowed by the first volume, Welcome to Lovecraft, and I thought the followup, Head Games, was nearly as great. I'll just say right off the bat that Crown of Shadows is my favorite in the series thus far. I'm just amazed at what Joe Hill and Gabriel Rodriguez have done with this book.
The hardships the Locke family has had to face in the wake are finally taking their toll, especially on the mother who had started drinking quite regularly towards the end of the second volume, and at the beginning of this third volume she is a wreck. She is not coping well at all with the murder of her husband, and she's nearly lost her children to a madman again, so it's kind of a wonder she can function at all. As for the three Locke children, Tyler, Kinsey, and Bode, they are coping remarkably well considering the absolute shit-twister they have each been through ever since their father was murdered.
In Crown of Shadows, Nina's depression and alcoholism have taken a toll on her, to the point where she's barely functioning as a mother and guardian for her three kids. Her oldest son, Tyler, wants to be her rock, but even he is being worn down by picking up her slack. Kinsey, meanwhile, has nearly given up on her mother and is instead focusing her time in learning about her father's past when he grew up in Lovecraft. As for the youngest, Bode, he's still actively looking for the keys in Keyhouse and for ways to thwart Dodge's plans to find the Black Key.
I already love this series, so maybe absence makes the heart grow fonder in this case, because I thought Crown of Shadows was about as close to a masterpiece as the series has reached. Gabriel Rodriguez's artwork is spellbinding yet again, aided greatly by Jay Fotos and Robbie Robbins who did coloring and lettering respectively. Almost every page crackles with a electric tinge that gives the characters life, and there's a fight scene in the first chapter between two ghosts that exemplifies that--loved that scene. Joe Hill's writing meanwhile is captivating in a way in another medium would be very good, but in the comic book settings seemed to have found its home. Some of the stuff involving the alcoholism threatened to get overwrought and a bit maudlin at one point, but it was saved by the end of the book.
And I haven't even mentioned the awesomeness that is the variety of fantastical keys that have emerged inside Keyhouse. The two that take center stage in this volume were monumental and helped an already riveting climax hit an epic level. I mean, when the third chapter reveals a giant wooden key hidden in the floorboards, you can't help but wonder what kind of crazy-ass door it's supposed to open--and then when that door finally does open, you're jaw drops. Mine did.
You might not be the kind of person who reads comic books, but if you love fantasy and wonder and discovery and suspense, then you need to read Locke & Key.